Medical Video Production Sample: Get Smart About Plastic Surgery. AMP Film Studios, through its Active MD division, wrote, produced a directed a series of videos for our client Dr. Aguiar, shot on location in Florida. The purpose was to showcase the practice and Doctor as an expert in his field and motivate patients to book a consultation. Our Client was extremely happy with the results and doubled conversions by using all of the media in their processes, including DVD giveaways, reception area video loop, and distribution on the internet. See the video below.
According to the American Marketing Association: patients are 75% more likely to play an interactive DVD then read a brochure.
Our Medical Video Production Guarantee
Our team of video production professionals has a track record of both reaching our medical clients goals and delivering your content on time. We use a transparent communication process from your first contact with use through the final delivery and distribution of your medical marketing & patient education videos. AMP Film Studios will supply everything needed, including: full crew, writer, director/producer, equipment and a cast (if needed) to ensure that everything is done right the first time, on time. Through our Active MD division we have been able to work with hundreds of medical businesses and brands across North America and increase their patient inquiries and conversions.
The Active MD (medical marketing & patient education) discovery process is by the far the most important thing that we do for medical/health businesses and what makes our program so successful.
We will present you with a detailed budget and proposal with clear objectives – You will approve all aspects of production, including outline, script, titles, and final edit. We are so confident that you will be 100% satisfied that we guarantee your money back! We will even give you all of the video we acquired for free. In 20 years we have never had to do this, since our goal is to give our medical/health clients, exactly what they need to increase inquiries and referrals.
80% of all Internet traffic is being used to watch video today. Not taking advantage of this seems ridiculous, since the cost of Internet distribution is nominal.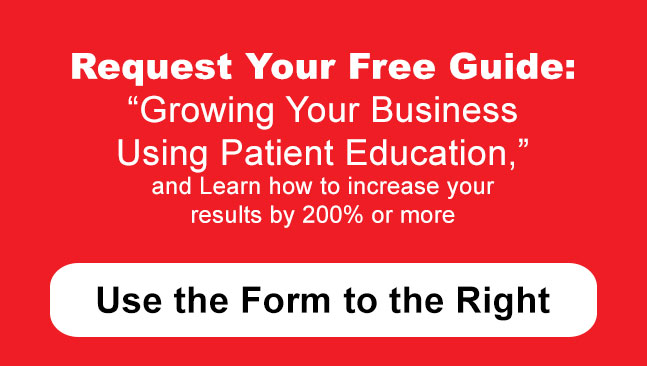 Free Guide: Growing Your Business Using Patient Education
If you are a Doctor, Practice Manager, or responsible for patient marketing, and you are thinking about using video to increase patient inquiries, increase conversions or communicate your business philosophy, you need to ask yourself what are the most important things you need to consider before creating medical marketing or patient education videos. If you are not sure why you should use video, you can get our guide "Why you need to use professional video in corporate communications and marketing," here. However, we will assume that you have already decided video is what you need, defined the goals you want to reach and that you want your video campaign to be successful. Aside from finding a competent, professional, video production company (who has successfully worked with hundreds of other medical/health businesses), what are the important points you need to consider? Our guide, "Growing Your Business Using Patient Education," focuses on our experience working with medical & health businesses and our proven method of creating patient education & medical marketing videos conceptually, and does not focus on technical aspects. Request your free guide "Growing Your Business using Patient Education," by using the form in the right sidebar now.
We hope this content and the video above have answered your questions about medical video production. However, if you have any more questions please feel free to call us at 1-877-267-4111 (option 1). Additionally, you can see more samples of Active MD patient education and medical/health videos on our medical video production samples page. AMP Film Studios (Active MD) turning inquiries into referrals for medical/health businesses and brands in North America. Corporate offices in Florida with production offices in New York/New Jersey, California and recently in Cancun, Mexico.